DEVELOPING A STATE OF THE ART CONSTRUCTION
Coal fired power Plant
Poland
Optimization of Piping Layout
To eliminate coal dust emissions for a Power plant Belman Design were to develop a state of the art construction for them. An EPC company upgrading a new area of a coal fired power plant in Poland had to quickly find the better solution to accommodate movements while avoiding coal dust emissions and providing necessary insulation. Belman Design were to develop a solution which resulted in the coal fired power plant becoming the only one in the world that has eliminated coal dust emissions between mills and burners!
Client challenge
This power plant unit was to be equipped with a supercritical single pass boiler fueled with a mixture of air and pulverized coal dust. The air/coal supply duct required a solution to accommodate movements which could also be insulated to prevent heat loss. It was important to find a solution which prevented coal dust emissions into the atmosphere which can occur when the process is prematurely shut down. Earlier products including standard telescopic solutions with rubber seals and "pipe in pipe" methods have a history of poor performance and reliability. Belman Design were approached to design a better solution.
Belman Design solution
Belman Design in worked closely with the EPC contractor to consider all of the operating and design parameters and developed a new state of the art Expansion Joint engineered specifically for this application. This was the first very time a company engineered a product for this application on this plant.
Using Belman Design's inhouse engineering tools including ANSYS Inventor, Rohr2 etc. we could define accurately the type and size of movements that would occur. Belman Design could then model the optimal expansion bellows configuration. In this case it consisted of an Expansion Joint incorporating a flanged pipe section between two Angular Expansion Joints. Two Angular Expansion Joints acting together can work in the same way as a Universal Expansion Joint by absorbing movements simultaneously in several planes. Boiler fuel ducts require a product that can accommodate movements in all three planes. In addition, these movements may occur in different areas. Belman Design's customized product was engineered specifically to cater for each movement plane and at the location that was relevant. This resulted in a simpler solution with a longer life cycle and operating life.
Belman Design considered the properties of the medium (air/coal powder) and selected DENSIT® as the most appropriate material for the Expansion Joints inner liner. This material had the right mechanical properties and could be manufactured into the Expansion Joint. It is suitably resilient to resist the effects of erosion. Ceramic wool was installed around the bellows to provide the necessary insulation. Additional insulation using special braided hose was also included to provide additional protection against the aggressive medium.
Teamwork strategy to expediate definition the problem, design the solution and manufacture/test the product achieving EPC delivery targets.
Design verified by calculation and analysis to simply the solution using proven technology.
Documented results in the form of FEA analysis and Rohr2 outputs.
Coal dust emissions prevented between the mill and the burner contribute to reducing pollution and environmental issues for the plant.
Increased working efficiency and lengthened life cycle reduce operating costs and downtime.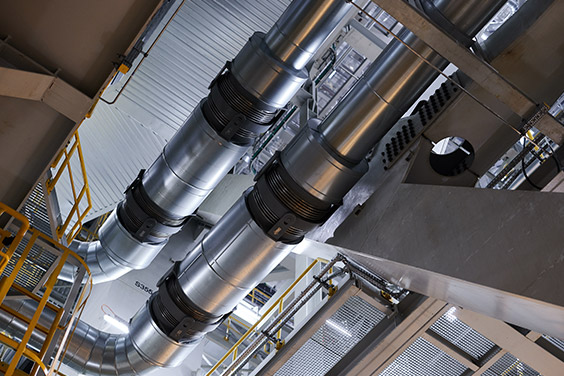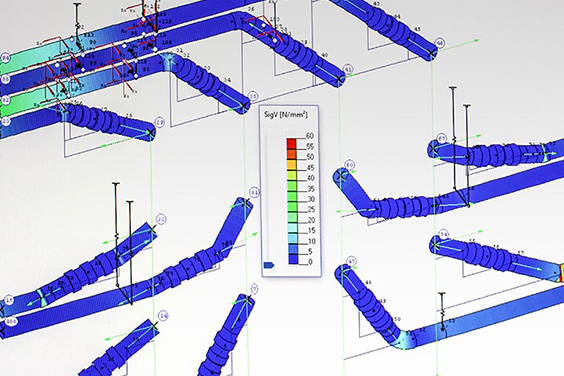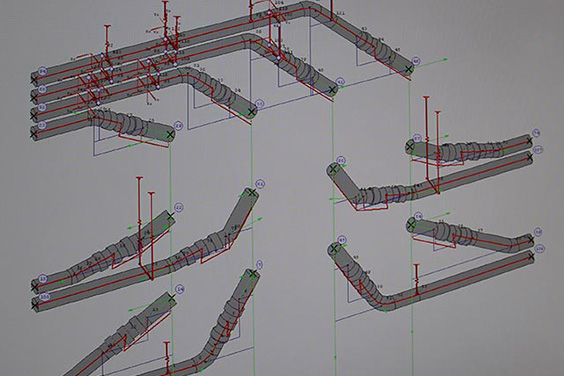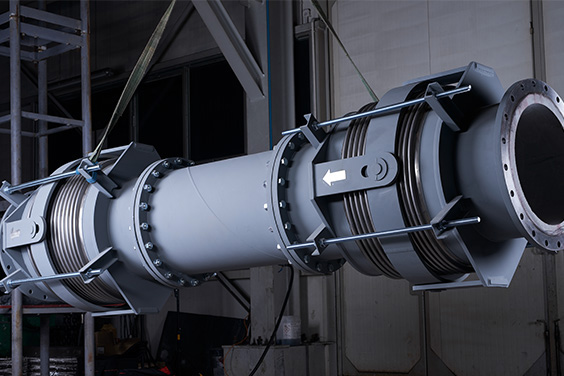 More information about how Belman Deisgn do selection and placement of Expansion Joints
More information about how Belman Design can make a difference on your project
Shell • Pfizer • Ineos • Rafako • Power Machines
BP • UHDE High Pressure Technologies
Pavlodar Chemistry • ArcelorMittal • Repsol
Bronswerk • Yamal LNG